Ireland has always been a land deeply entrenched in spirituality. For a long time in the past, Ireland had been the "Spiritual Capital" of Europe leading the way in spirituality.
​
The Early Christian Period is known as Ireland's Golden Age. At a time when the rest of Europe was going through the "Dark Ages", Ireland was going through a period of religious fulfilment and prosperity. Hundreds of Christians from around Europe travelled to Ireland to learn scripture and literacy from Irish monks and scholars.
During this time, monasteries flourished and grew, trade increased and settlement patterns changed. The vast majority of these saints lived during the 4th - 10th centuries, the period of early Christian Ireland, when Celtic Christianity produced many missionaries to Great Britain and the European continent. For this reason, Ireland in a 19th-century adage is described as "The land of Saints and Scholars". Ireland has produced several notable saints over time. For a List of Irish Saints, please refer this link.....
​
Éire Vedanta Society celebrates Irish Spirituality and it's true essence, namely inter-faith unity. St. Patrick's Day is celebrated every year at EVS with great devotion and fervour.
From the Irish, Mullach Eadrad (meaning 'mound of the milking'), Mulhuddart was once a quiet village close to the city but is now a busy suburb of Dublin, boasting both Dublin's largest housing and industrial estates alike.
Up the hill from what was once the village centre, stands the ruins of an old church within Mulhuddart graveyard. The church was called the Church of Mary and is a medieval ruin, but why exactly it stopped being used as a church is still a mystery. The church was functional in the late Sixteenth century and is recorded as being 'in good repair' in 1615. By 1680 it was a complete ruin and in a very similar state to what it is today.

The ruins of the Church of Mary:
​
Our Lady's well has a close connection to this ruin and tells a tale of an unusual order permitted to thrive in this area which made the well a very popular place of pilgrimage throughout the eighteenth and nineteenth centuries.
Blessed Virgin Mary. This order of monks and nuns were provided with a small sum of money for the upkeep of Marian shrines in the area, but in particular for the upkeep of Our Lady's Well. They erected a small 'u'-shaped wall as an enclosure around the well and planted a number of trees to create the impression of a grove.
​
Shortly after Henry VI's death, Our Lady's well (and presumably the church) came under the care of the nuns of Grace Dieu. The Grace Dieu nuns were an order of Augustinian Canonesses dedicated to God, the Holy Trinity and Saint Mary and were founded by Rohese de Verdon in 1241.
This order put a stone roof on the well, building on the already existing stone walls. They capped the roof with a stone inscribed with various prayers to the Virgin and a small niche and an incised cross above. It was through their efforts that it remained a place of pilgrimage for some time and even today the Roman Catholic parish nearby is dedicated to the Blessed Virgin Mary.
On the front of the stone on top of the well housing the inscription reads, 'Holy Mary, Pray For Us' and to the side, 'O Blessed Mother and Ever Virgin Glorious, Queen of the World, Make Intercession For us.'
​
It is only befitting that the premises of Éire Vedanta Society is a short walking distance away from Our Lady's Well and a testimony to the fact that the blessing of divine Mother Mary is bestowed on our work in abundance.
Saint Patrick was a fifth-century Romano-British Christian missionary and bishop in Ireland. Known as the "Apostle of Ireland", he is the primary patron saint of Ireland.
He was born in a village in Roman Britain. When he was 16 years old he was captured and sold into slavery. Saint Patrick, who brought Christianity to Ireland, came from a Christian family. He was the son of Calpornius, who was a deacon.
He converted many pagans to Christianity. He also challenged many of their leaders and druids such as Aodhan the Brave, also known as Chief Aodhan. St.Patrick eventually converted Chief Aodhan and they worked together to convert many other pagans.
St. Patrick's Day is celebrated every year on 17th March in his honour.

Saint Patrick's Bell:
There is a bell in the National Museum of Ireland that was made around the time of Saint Patrick's life. There is no evidence that Saint Patrick owned the bell but the Irish have believed the bell belonged to Saint Patrick for 1400 years.
One of the kings of Ulster who was the high king of Ireland at the time had a beautiful cover made out of gold and gems to preserve the bell. The names of the bishops of Ireland were engraved on the cover. The style of the letters on the cover were used to make the first typewriters. It is believed that the bell was rung by Saint Patrick to let people know it was time for church.
Saint Patrick and the snakes:
There are no snakes in Ireland but there is a legend that at the time of Saint Patrick there were lots of snakes and he chased them all into the Irish Sea. Some say that this legend came to be because pagans had tattoos of snakes and Saint Patrick got rid of the pagans by teaching Christianity and therefore drove out the snakes from Ireland.
Holy Trinity and the Shamrock:
Legend credits Patrick with teaching the Irish about the doctrine of the Holy Trinity by showing people the shamrock, a three-leafed plant. He used it to illustrate the Christian doctrine of Holy Trinity.
The shamrock has since become a central symbol for Saint Patrick's Day.
St. Patrick's Day is celebrated every year at EVS with great devotion and fervour.

St. Brigid – Early Years

: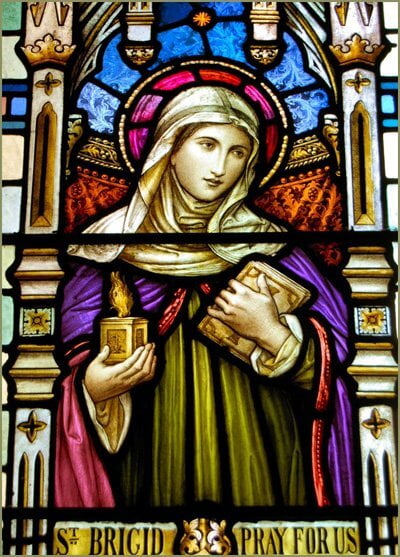 St. Brigid is the second patron saint of Ireland, whose feast day is her birthday; the first day of spring, 1st February (Lá Fhéile Bhride). Brigid is also known as Muire na nGael or "Mary of the Gael" meaning Our Lady of the Irish.
St. Brigid was born in Faughart, Dundalk, Co. Louth in A.D 450. Her father, Dubhthach, was a pagan Chieftain of Leinster and her Christian mother, Broicsech, was possibly born in Portugal, kidnapped by Irish pirates, and sold to Dubhthach as a slave.
After Brigid was born, her mother was sold to a chieftain in Connaught and Brigid was sent to be raised and educated by the Druids. Brigid grew into a beautiful woman and when she was old enough she returned to her father's house as a semi-slave. She eventually went to Connaught to find her mother and brought her to Dubhthach's house.
​
Brigid lived at the time of St. Patrick, who inspired her to convert to Christianity. She wanted to serve her life looking after the poor and the sick in the name of God. This angered her father, but Brigid was so generous in giving his wealth away to the poor, he finally conceded when she gave away his most precious jewel encrusted sword to a leper.
At 18 years of age Brigid entered religious life at the convent of St. Macaille and she inspired many other young girls to join her.
​
St. Brigid the Abbess and the Miracle of the Cloak:
​
Brigid founded many convents, the most famous of which is in Kildare. She became known as Brigid of Kildare. Kildare in Irish is Cill Dara, 'Cill' meaning church and 'Daire' meaning oak tree, so Kildare means 'Church of the Oak', another connection to the Goddess Brid as the oak was sacred to the Druids. In A.D 470, she founded a double monastery for nuns and monks in Kildare and became Abbess. The Abbey of Kildare became famous throughout Europe as Irish missionaries spread the story of the kind and generous St. Brigid.
It is said that St. Brigid went to the King of Leinster requesting land for the Abbey; she had found the perfect spot – near a forest for firewood and a lake for water and fertile land. The King refused and Brigid prayed that he might change his mind.
She asked the king 'Will you give me as much land as my cloak will cover?' The King, looking at Brigid's small cloak, laughed and agreed. Brigid began to spread her cloak on the ground, four friends held a corner of the cloak and started walking North, South, East and West. The cloak grew and grew and covered acres of land. When the King saw this he realised Brigid was indeed a holy woman and he offered her food and supplies.
The King himself converted to Christianity and began to help the poor. The miracle of the cloak was the first of Brigid's many miracles.
​
St. Brigid's Cross:
​
Brigid was requested to sit with a pagan chieftain in Kildare, who was delirious and raging on his death-bed. The Chieftain was so delirious it was impossible for Brigid to talk to him, so she just sat with and comforted him. Brigid began to weave rushes from the floor into the shape of a cross. The Chieftain quietened as he began to notice Brigid and he asked what she was doing. However, some believe this style of cross was first used by Brid, the Celtic Goddess of Fire, long before Christianity and that the cross was inspired by the pagan symbol of the sun-wheel.
Traditionally, a new cross is made each year on St. Brigid's feast day, and the old one burned to ward off fire, although many homes in olden days kept all their crosses preserved in the thatched roofs, as fire would have been a huge concern for houses that had thatch and wooden roofs. The Brigid's Cross is usually made from rushes and reeds or straw and is a woven centre square with four spokes, which are tied at their ends. Hung near the front door, the St. Brigid's Cross is traditionally an Irish gift for a new home. The St. Brigid's Cross is often also spelt Brighid's Cross or Brigit's Cross and the Irish translation is Cros Bríde, Cros Bhrighite, Crosóg Bríde or Bogha Bríde.
​
St. Brigid's Relics:
​
St. Brigid died aged 75 in A.D 525 on the same day she was born, 1st February. She was placed in a jewelled casket and buried in a tomb at the High Altar of her Abbey church. As protection from Norse invaders her remains were exhumed in A.D 835 and placed to rest at Downpatrick with St. Patrick and St. Columcille. Although her skull was extracted and taken by three knights to the Holy land, however, they perished near Lisbon, Portugal, and St. Brigid's skull is enshrined in a special chapel in the church at Lumier. It is reported that a tunic belonging to St. Brigid is kept at St Donatian's, Bruges, Belgium, and a jewelled shoe made of silver and brass is displayed at the National Museum in Dublin.